To create a Google Play Developer Account follow these easy steps:
Create a Google Account
Create a Google Developer Account in Google Play Console
Configure Google Wallet and pay Registration fees
Set up your Developer Profile
Create a Google Account
First, you will need a Google account.
Google Account is free of charges
: if you don't already have one, now's the time to set one up. You need a Gmail address, you can create one 
here
. This email will be tied to your Google Developer account.
Create a Google Developer account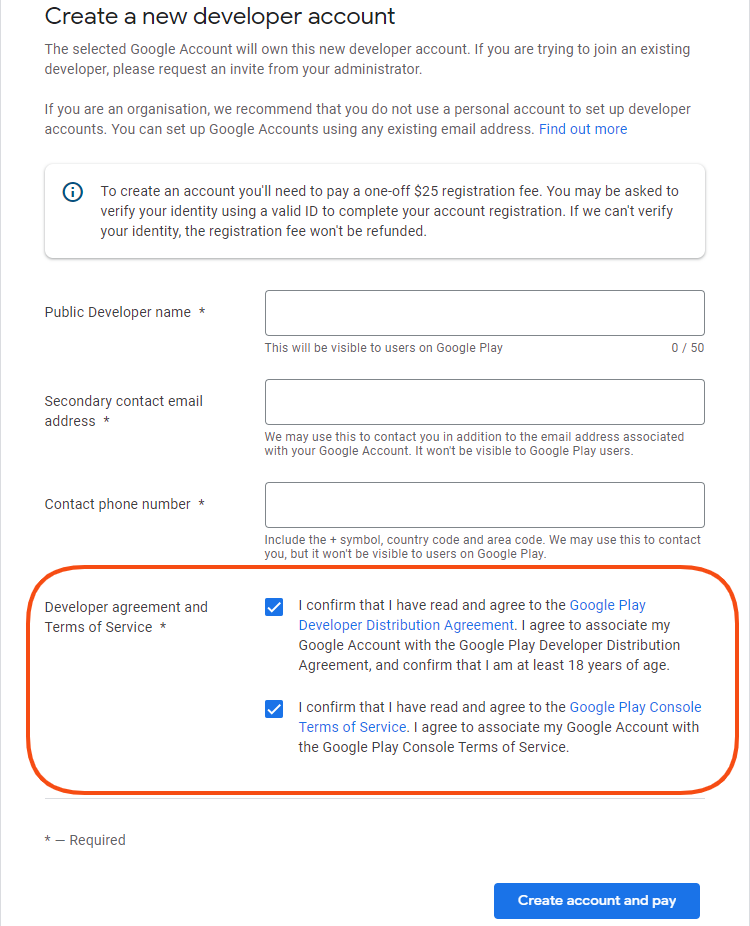 Go to the 
Google Play Console
to create a new 
Google Developer Account
. Log in with your Google credentials (your Gmail address).
In the next step, check the box to accept the agreement regarding the distribution of your app on Google Play. This step will connect your Google Account to your Developer Account. You can choose to publish your app with your personal Gmail account or a more professional one. Simply log in to the Play Store Console with the account of your choice and complete your registration. Once you're all set, click on "Continue to payment".
Configure Google Wallet and pay registration fees
You'll have to pay Play Store fees for developers. To do that, you will be asked to configure 
Google Wallet
.
Select your country in the list, and fill in the requested personal information and payment method details.
Google Play Store price :
Note that: registration fees for Google Play are a one-time fee of $25. There are no extra charges when you want to commit an update of your Android app in the future. Besides, you can publish several Android apps using the same Publisher account.
Then, click on "Accept and continue".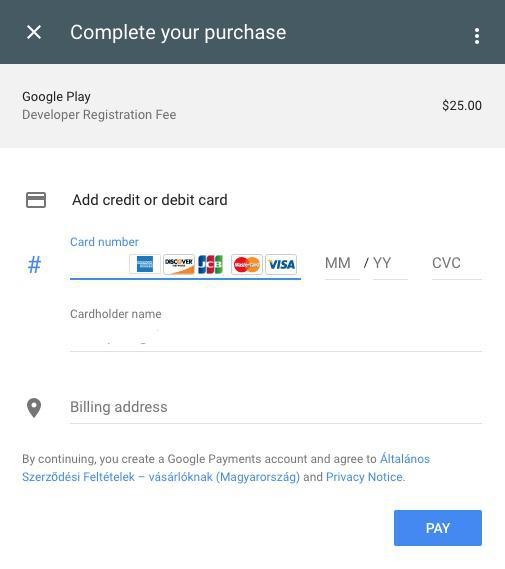 Set up your Developer Profile
In your Developer Console, you will now set up your Developer Profile. The name of the developer is the one that will appear on the profile of your app on the Google Play Store. It's mandatory information, as well as an email address and phone number. Once the information is filled out, click on "Complete registration".
Give access to the Developer
Add users and turn permissions on or off
If you're an account owner or admin, you can add users to your Play Console account and manage permissions across all apps or for specific apps. Before adding users and turning permissions on or off, review the permission definitions and uses section below to ensure that you understand them.
Open Play Console.
On the left menu, go to Users and permissions.

To add new users, go to Invite new users.
If you're managing permissions for an existing user, click anywhere on the user's row in the user table.

Enter the user's email address, and set an access expiry date if necessary and you have the Admin (all permissions) permission at the account level. Note that:

Users can only sign in to Play Console with a Google account using the same email address that you invite.
If you don't choose an access expiration date, the user has ongoing access to the Play Console account or app.

Choose what permissions to apply to specific apps using the App permissions tab, or what permissions to apply to all apps in your developer account using the Account permissions tab.

To add an app to the permissions table, go to Add app under the App permissions tab, and then go to Apply.

Select Invite user.